Who are we?
In July 1968, ten women in the new Greenbriar community in western Fairfax County founded the Greenbriar Woman's Club. These women estab­lished the goals of the Club "to promote the civic, cultural, domestic and educa­tional betterment of the community and to discuss the vital interests of the day." In March 1969, the Greenbriar Woman's Club joined the General Federation of Women's Clubs (GFWC). We changed our name to GFWC-Western Fairfax County Woman's Club (WFCWC) in 2004. WFCWC is a nonprofit, all volunteer organization.
Today, WFCWC is made up of women living in western Fairfax County who are active volunteers, especially for
charities that provide help to teenagers and abused women and children. We support education by our active support of the Friends of the Chantilly Regional Library, and by providing two scholarships to senior girls who embody our ideals of volunteerism, in line with the GFWC tagline
Living the Volunteer Spirit.
We also support many other charities in our community, as described on our
Charities We Support
page.
---
Friends of Chantilly Regional Library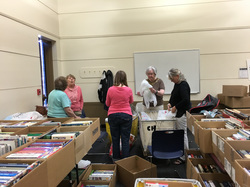 WFCWC has a long history of support for the Friends of the Chantilly Library and their book sales. Twenty-four members donated their time to work at the Book Sales in October and April, either cashiering, stocking books, helping patrons or combinations of those tasks. In addition, six members show up at the library weekly to box books for the sales, two more members also go to the library to sort books before they are boxed, and five members serve on the Friends board.

---
---
Our GFWC Affiliation:

GFWC

(

www.GFWC.org

) is a unifying force, bringing together local women's clubs whose members are dedicated to strengthening their communities and enhancing the lives of others through volunteer service. With 100,000 members in affiliated clubs in every state and more than a dozen countries, GFWC members are community leaders who work locally to create global change by supporting the arts, preserving natural resources, advancing education, promoting healthy lifestyles, encouraging civic involve­ment and working toward world peace and understanding.

GFWC's motto is "Unity in Diversity." The signature project for 2014-2016 is domestic violence awareness and prevention.

GFWC Virginia

(

www.gfwcvirginia.org

) organized in 1907 to unify the women's clubs of Virginia to promote the cultural, educa­tional and environmental welfare of the Commonwealth. GFWC Virginia comprises 198 clubs in eight districts with almost 6,000 members willing to help meet the needs of today.

GFWC Virginia's motto is "Observing... To take notice - to take action." The 2014-2016 state project promotes breast cancer awareness, prevention and research.


Northern District's

(

www.ndgfwcva.org

) purpose is to unify the women's clubs of Northern Virginia to promote the objectives, policies and membership of GFWC Virginia. Northern District is comprised of the 14 northernmost counties and cities in Virginia.